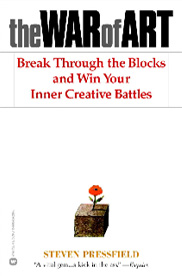 This book was given to me a short time ago when I was going through a major slump. The much needed inspiration and direction in the book arrived just in time.
Steven Pressfield
's,
"The War of Art"
speaks to not only artist, but everyone. The information in the book, however, can be applied to any goal you may have from losing weight to starting a business.
The book lays out what blocks you, and how to get unblocked.
From,
"The War of Art"
I learned that I was not alone in what I was going through. Anyone who is working to make any change goes through resistance.
If you have been struggling to start a new project, or see one through to completion, this is a book you need to read.
As we embark on a new year, I hope that this book will bring you clarity that will help you to accomplish your goals and stick to your resolutions.